13-06-2021 | Regular Paper | Issue 5/2021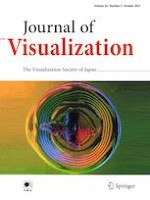 A comparative analysis for visualizing the temporal evolution of contact networks: a user study
Journal:
Authors:

Claudio D. G. Linhares, Jean R. Ponciano, Jose Gustavo S. Paiva, Bruno A. N. Travençolo, Luis E. C. Rocha
Important notes
Publisher's Note
Springer Nature remains neutral with regard to jurisdictional claims in published maps and institutional affiliations.
Abstract
Temporal networks are widely used to map phenomena into complex systems in several research disciplines, such as computer science, business, and biology. Several layouts can be used in visual analyses of temporal networks. The identification of the most suitable for a given task is, however, not trivial. This paper presents a user study that analyzes the performance of four different layouts: Massive Sequence View (MSV), Temporal Activity Map, matrix animation, and structural animation, when applied to pattern detection tasks of time-evolving networks. Our results show that all four layouts are appropriate to perform the evaluated tasks; however, the structural animation and MSV scored higher across different types of users.
Graphic abstract
×