19-04-2021 | Original Paper | Issue 3/2021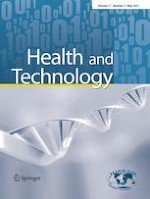 A comparative study and analysis of LSTM deep neural networks for heartbeats classification
Journal:
Authors:

Srinidhi Hiriyannaiah, Siddesh G M, Kiran M H M, K G Srinivasa
Important notes
This article is part of the Computer based medical systems
Abstract
Heart diseases and their diagnosis has become a predominant topic in Healthcare systems as the heart is one of the pivotal parts of the human body. Electrocardiogram (ECG) signal-based diagnosis and classification have been experimented with various computational techniques which have demonstrated early detection and treatment of heart disease. Deep learning (DL) is the current interest of different Healthcare applications that includes the heartbeat classification based on ECG signals. There are various studies conducted with different DL models, such as Convolutional Neural Network (CNN), Recurrent Neural Network (RNN) and Gated Recurrent Unit (GRU) for the heartbeat classification using MIT-BIH arrhythmia dataset. This paper aims to provide a comprehensive analysis of Long-Short Term Memory (LSTM) based DL models with multiple performance metrics on the MIT-BIH arrhythmia dataset for the heartbeat classification. The different variants of the LSTM DL model are proposed for the purpose of the classification. Among the variants, the bi-directional LSTM DL model shows high accuracy in the classification of Normal beats (97%), Premature ventricular contractions (PVC) beats (98%), Atrial Premature Complex (APC) beats (98%), and Paced Beats (PB) beats (99%). The comparative analysis of the bi-directional LSTM DL model with the existing works shows 95% sensitivity and 98% specificity in the classification of heartbeats. The results evidently show that the LSTM DL models are appropriate for the classification of heartbeats.