25-01-2020 | Issue 4/2020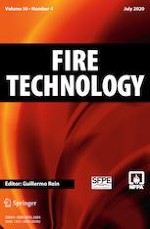 A Comparison of the Conditions in a Fire Resistance Furnace When Testing Combustible and Non-combustible Construction
Journal:
Authors:

David Lange, Johan Sjöström, Joachim Schmid, Daniel Brandon, Juan Hidalgo
Important notes
Publisher's Note
Springer Nature remains neutral with regard to jurisdictional claims in published maps and institutional affiliations.
Abstract
This paper reports on two experiments conducted in a fire resistance furnace to study the differences in the boundary conditions, the fire dynamics and the fuel required to run the furnace when a combustible timber specimen as opposed to a non-combustible concrete specimen is tested. In both experiments measurements were taken in the furnace to evaluate the difference in the environments of the furnace and the response of the elements being tested. These include non-control plate thermometers distributed throughout the furnace; O2, CO2 and CO gas measurements taken at different distances from the specimen surface and in the furnace exhaust; instrumentation of one of the bricks comprising the furnace lining with thermocouples at different depths from the exposed surface; and mass loss of the combustible timber specimen. Thermal exposure of elements in a furnace is discussed, as well as the impact of the different materials on the similarity of thermal exposure. This is done through analysis and discussion of the different measurements taken and the apparent influence of the specimen being tested on the boundary condition of the heat diffusion equation. We conclude that; (1) the fire dynamics in a furnace are dependent on the specimen being tested; (2) that the test with the combustible specimen requires less fuel flow to the burners such that the control plate thermometers follow the ISO 834 temperature–time curve compared to the non-combustible specimen, however that this is not only a result of the combustibility of the specimen but is also a consequence of the different thermal inertia of the two materials; (3) that the boundary condition for heat transfer to a test object in furnace tests is dependent on the properties of the specimen being tested; and (4) that the timber when placed on the furnace experiences smouldering combustion after the char layer has formed. A fire resistance test of combustible construction of a given period represents a significantly less onerous test in terms of energy absorbed or fuel made available than one of a non-combustible construction, implying that the existing fire resistance framework may not be appropriate for timber structures and that an alternative approach may be required.