01-09-2021 | Issue 3/2021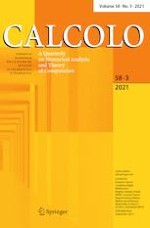 A complex structure-preserving algorithm for split quaternion matrix
LDU

decomposition in split quaternion mechanics
Journal:
Authors:

Gang Wang, Tongsong Jiang, Zhenwei Guo, Dong Zhang
Important notes
This paper is supported by the National Natural Science Foundation of China (No. 11771188), Chinese Government Scholarship (CSC No. 202008370340) and Shandong Natural Science Foundation (No. ZR201709250116).
Publisher's Note
Springer Nature remains neutral with regard to jurisdictional claims in published maps and institutional affiliations.
Abstract
Matrix decompositions play a prominent role in the theoretical study and numerical calculation of split quaternion mechanics. This paper, by means of a complex representation of split quaternion matrices, introduces Gaussian elimination of split quaternion matrices, and obtains a complex structure-preserving algorithm for split quaternion matrix
LDU
decomposition. Numerical examples show that the complex structure-preserving algorithm is more efficient.