01-07-2019 | APPLIED PROBLEMS | Issue 3/2019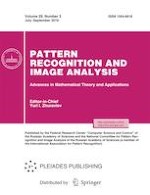 A Computational Approach to Pertinent Feature Extraction for Diagnosis of Melanoma Skin Lesion
Authors:

Sharmin Majumder, Muhammad Ahsan Ullah
Important notes
Sharmin Majumder
received her B.Sc. in electrical and electronic engineering (EEE) from Chittagong University of Engineering and Technology (CUET), Bangladesh, and M.Sc. in EEE from Chittagong University of Engineering and Technology, Bangladesh. Currently she is working as an Assistant Professor in the department of EEE, CUET. Her research areas include signal and image processing, biomedical imaging, neuroengineering, machine learning, and human-computer interaction.
Muhammad Ahsan Ullah
received B.Sc. in engineering degree in electrical and electronic engineering from Chittagong University of Engineering and Technology, Bangladesh in 2002, M.E. degree in Electronic and Information Engineering from Kyung Hee University, Republic of Korea in 2007 and PhD degree in Information and Control Engineering at Nagaoka University of Technology at 2011. He is doing research on signal processing, coding theory, threshold decoding, MC-CDMA, OFDMA, MIMO, control system, embedded system design and image processing.
Abstract
Melanoma, starts growing in melanocytes, is less common but more serious and aggressive than any other types of skin cancers found in human. Melanoma skin cancer can be completely curable if it is diagnosed and treated in an early stage. Biopsy is a confirmation test of melanoma skin cancer which is invasive, time consuming, costly and painful. To prevent this problem, research regarding computerized analysis of skin cancer from dermoscopy images has become increasingly popular for last few years. In this research, we extract the pertinent features from dermoscopy images related to shape, size and color properties based on ABCD rule. Although ABCD features were used before, these features were mostly calculated to reflect asymmetry, compactness index as border irregularity, color variegation and average diameter. This paper proposes one asymmetry feature, three border irregularity features, one color feature and two diameter features as distinctive and pertinent. Implementation of our approach indicates that each of these proposed features is able to detect melanoma lesions with over 72% accuracy individually and the overall diagnostic system achieves 98% classification accuracy with 97.5% sensitivity and 98.75% specificity. Therefore, this method could assist dermatologist for making decision clinically.