05-12-2018 | Issue 1/2020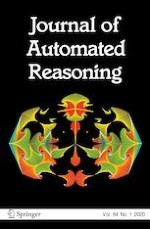 A Conflict-Driven Solving Procedure for Poly-Power Constraints
Journal:
Authors:

Cheng-Chao Huang, Ming Xu, Zhi-Bin Li
Important notes
This work is funded by the National Natural Science Foundation of China (Nos. 11871221 and 11435005), the National Key R&D Program of China (No. 2018YFA0306704), and the Science and Technology Commission of Shanghai Municipality (No. 14DZ2260800).
Publisher's Note
Springer Nature remains neutral with regard to jurisdictional claims in published maps and institutional affiliations.
Abstract
This paper studies the satisfiability problem of
poly-power
constraints (conjunctions of
poly-power
equations and inequalities), in which
poly-power
s are univariate nonlinear functions that extend integer exponents of polynomials to real algebraic exponents. To solve the
poly-power
constraint, we present a sound and complete procedure that incorporates conflict-driven learning with the exclusion algorithm for isolating positive roots of
poly-power
s. Furthermore, we introduce a kind of optimal interval-splitting, based on the Stern–Brocot tree and on binary rational numbers respectively, so that the operands occurring in the execution are chosen to be as simple as possible. The solving procedure, thereby, turns out to be promisingly efficient on randomly generated examples.