Published in: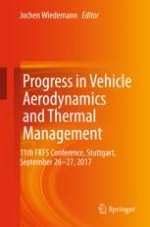 2018 | OriginalPaper | Chapter
A Coupled Simulation Approach to Race Track Brake Cooling for a GT3 Race Car
Abstract
During race track operating conditions, the vehicle is constantly accelerating and braking from high to very low velocities. This generates a lot of heat that needs to be absorbed by the brakes. Sufficient cooling is required to prevent the brakes from overheating. When brakes exceed their critical temperature, they can lose grip and start fading. Brakes can lose quite some heat through radiation and conduction to their surroundings, but most of the heat can be released through cooling airflow convection. Improving the cooling airflow to the brake discs can significantly lower the brake disc temperature during the race track duty cycle. An efficient design for convective cooling will avoid large drag penalties or significant brake disc weight increase. With simulation, the brake disc and brake system design can be optimized more efficiently, to allow more cooling airflow, by visualizing the flow and it can be used in early design stages. The 3D CFD simulation method is coupled to a radiation/conduction tool to include radiation, conduction and convection effects. It can predict the brake system temperature over time during the race track duty cycle. The results have been compared against experimental data and several design variants have been tested to improve the design.