27-07-2018 | Technical Note | Issue 11/2018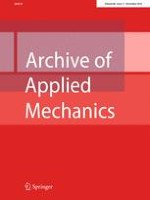 A damping estimation method based on power ratio
Journal:
Authors:

Baisheng Wu, Weijia Liu, Xiaoyang Wu
Important notes
Publisher's Note
Springer Nature remains neutral with regard to jurisdictional claims in published maps and institutional affiliations.
Abstract
A bandwidth method based on power ratio is proposed to evaluate the system damping by using frequency response functions. For single-degree freedom systems, exact formula for calculating damping ratio from displacement frequency response function is established. Additionally, an approximate formula to estimate the damping ratio from acceleration frequency response function is also derived. Both are represented in terms of the power ratio and the bandwidths relative to the corresponding peak frequencies. In contrast to the well-known half-power method, the proposed method can be used for relatively large damping ratios by selecting a corresponding high power ratio. The accuracy of the proposed formulas in damping estimation is investigated for a four-degree of freedom system by numerical experiments. The results show that by increasing the power ratio, the estimation errors in damping ratios for the four-degree of freedom system can be significantly reduced.