2021 | OriginalPaper | Chapter
A Decision-Making Tool Incorporating Multiple Benefits of Motor Systems' Retrofits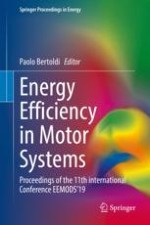 Read first chapter
Authors: Rita Werle, Rolf Tieben, Petar Klingel, Andreas Rothen, Lea Fleischli, Victoria Pyatova, Shaun West, Kurt Ackermann, Richard Phillips
Publisher: Springer International Publishing
Abstract
Investments into energy efficiency in companies are currently considered rather one-sided, for the most part focusing on financial aspects only. Further benefits such as operational security, employee productivity, etc. are not systematically included in the investment analysis.
According to the final report of the research project Management as a Key Driver of Energy Performance from 2018, 'Energy efficiency provides numerous benefits to companies, including improvements in worker comfort, product quality, overall flexibility and productivity, as well as reductions in maintenance cost, risk, production time and waste'. The overall benefits of energy efficiency improvements are not only related to energy but also include non-energy aspects and are often referred to as multiple benefits. Non-energy benefits can have more importance than energy benefits only and ultimately help in convincing company management to invest into energy efficiency – having a positive overall impact on companies' competitiveness. Thus, multiple benefits, which include both energy and non-energy aspects, have a significant potential in triggering the (timely) replacement of existing installations (Management as a key driver of energy performance – final report, 15 November 2017;
https://​aceee.​org/​blog/​2015/​12/​multiple-benefits-prove-energy
).
A Swiss project aims to develop a decision-making tool for motor systems that supports decision-makers in small and large companies, incorporating the aspects of multiple benefits. Since electric motor systems are widely used in companies of all sizes across different sectors (primarily in the industrial and services sectors), the market potential of such a decision-making tool is considerable. In addition to a technical approach, socio-economic as well as investment-related aspects will be incorporated, so that the basis for decision-making has the necessary breadth. The final product shall be a web-based tool, which is easily available and applicable for the target group.
The project is implemented in three phases and concluded by mid-2020:
1.
Phase 0: In this preparatory phase, the general approach was established, taking into account technical, behavioural and financial aspects. Interviews were conducted with four organisations, laying down the groundwork.
2.
Phase I: Following the preparatory phase, relevant multiple benefits will be further elaborated, identified and validated, based on interviews and data analysis. Four applications of motor systems will be analysed, namely, air compressors, cooling compressors, fans and pumps (and in addition as an option variable frequency drives).
3.
Phase II: The results of Phase I will be integrated into a web-based decision-making tool.
4.
Phase III: Dissemination of the tool to relevant stakeholders.
This paper focuses on the methodological approach taken and the results so far (Phase 0).