01-04-2014 | Issue 4/2014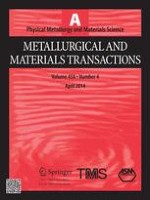 A Deformation Mechanism Map for the 1.23Cr-1.2Mo-0.26V Rotor Steel and Its Verification Using Neural Networks
Authors:

Nafisa Bano, Ashok K. Koul, Michel Nganbe
Important notes
Manuscript submitted May 20, 2013.
Abstract
A deformation mechanism map is constructed for the 1.23Cr-1.2Mo-0.26V rotor steel as a function of temperature, stress, and strain rate using published creep test results and the current understanding of time dependent deformation mechanisms operative in complex engineering alloys. Instead of diffusional creep, grain boundary sliding (GBS) accommodated by different deformation processes is considered dominant at lower strain rates. The GBS dominated region is further sub-divided into two parts, where GBS is accommodated by wedge type cracking at temperatures below 0.5
T
/
T
m
and the accommodation process changes to creep cavitation at temperatures above 0.5
T
/
T
m
. The map is verified using experimental data and artificial neural network modeling. The proposed artificial neural network model is capable of predicting the dominance of different deformation mechanisms in 1.23Cr-1.2Mo-0.26V steel over a wide range of stress and temperature. This modeling procedure can potentially be used to construct or expand deformation mechanism maps for other engineering alloys.