01-06-2015 | Issue 6/2015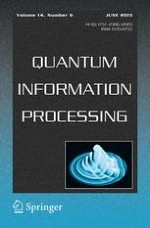 A different Deutsch–Jozsa
Journal:
Author:

Debajyoti Bera
Abstract
One of the early achievements of quantum computing was demonstrated by Deutsch and Jozsa (Proc R Soc Lond A Math Phys Sci 439(1907):553,
1992
) regarding classification of a particular type of Boolean functions. Their solution demonstrated an exponential speedup compared to classical approaches to the same problem; however, their solution was the only known quantum algorithm for that specific problem so far. This paper demonstrates another quantum algorithm for the same problem, with the same exponential advantage compared to classical algorithms. The novelty of this algorithm is the use of quantum amplitude amplification, a technique that is the key component of another celebrated quantum algorithm developed by Grover (Proceedings of the twenty-eighth annual ACM symposium on theory of computing, ACM Press, New York,
1996
). A lower bound for randomized (classical) algorithms is also presented which establishes a sound gap between the effectiveness of our quantum algorithm and that of any randomized algorithm with similar efficiency.