18-04-2019 | Original Paper | Issue 2/2020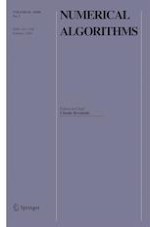 A direct discontinuous Galerkin finite element method for convection-dominated two-point boundary value problems
Journal:
Authors:

Guanglong Ma, Martin Stynes
Important notes
Publisher's note
Springer Nature remains neutral with regard to jurisdictional claims in published maps and institutional affiliations.
Abstract
The direct discontinuous Galerkin (DDG) finite element method, using piecewise polynomials of degree
k
≥ 1 on a Shishkin mesh, is applied to convection-dominated singularly perturbed two-point boundary value problems. Consistency, stability and convergence of order
k
(up to a logarithmic factor) are proved in an energy-type norm appropriate to the method and problem. The results are robust, i.e., they hold uniformly for all values of the singular perturbation parameter. Numerical experiments confirm the theoretical convergence rate.