01-07-2019 | APPLIED PROBLEMS | Issue 3/2019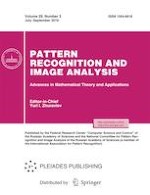 A Fast Action Recognition Strategy Based on Motion Trajectory Occurrences
Authors:

G. Garzón, F. Martínez
Important notes
Gustavo Garzón Villamizar.
Junior researcher at Biomedical Imaging, Vision and Learning Laboratory (BIVL2ab) of Universidad Industrial de Santander, Bucaramanga, Colombia. Graduated from Systems Engineering program in 2016. His research interest include action recognition, motion analysis and deep learning.
Fabio Martínez Carrillo.
Is currently a full-time professor at Universidad Industrial de Santander on the Computer Engineering and Informatics School. He is part of the Biomedical Imaging, Vision and Learning Laboratory. In past, he did a postdoc working together with U2IS (ENSTA-ParisTech) – LIMSI-CNRS (Université Paris-Sud) of Université de Paris-Saclay. He has also worked in CIM@LAB laboratory and BioIngenium Research Group, Bogotá-Colombia, in Laboratoire du Traitement du Signal et de l'Image, Université de Rennes 1. Rennes-France and Laboratoire d'Electronique et Informatique. ENSTA-ParisTech. Paris-France. His major interest are on video processing, models of motion to action recognition, machine learning, applications related with computer vision, and medical imaging processing.
Abstract
A few light stimuli coherently distributed in the space and time are the essential input that a visual system needs to perceive motion. Inspired in such fact, a compact motion descriptor is herein proposed to describe patterns of neighboring trajectories for human action recognition. The proposed method introduces a strategy that models the local distribution of neighboring points by defining a spatial point process around motion trajectories. Particularly, a two-level occurrence analysis is carried out to discover motion patterns that underlying on trajectory points representation. Firstly, local occurrence words are computed over a circular grid layout that is centered in a fixed position for each trajectory. Then, a regional occurrence description is achieved by representing actions as the most frequent local words that occur in a particular video. This second occurrence layer could be computed for the entire video or by each frame to achieve an online recognition. This compact descriptor, with local size of 72 and sequence descriptor size of 400, acquires importance in real-time applications and environments with hardware restrictions. The proposed strategy was evaluated on KTH and Weizmann dataset, achieving an average accuracy of 91.2 and 78%, respectively. Moreover, a further online recognition was performed over UT-Interaction achieving an accuracy of 67% by using only the first 25% of video sequences.