01-12-2019 | Original Article | Issue 1/2019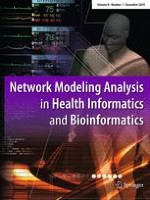 A graph theoretical approach for node covering in tree based architectures and its application to bioinformatics
Author:

Angel D.
Important notes
Publisher's Note
Springer Nature remains neutral with regard to jurisdictional claims in published maps and institutional affiliations.
Abstract
Investigation of DNA sequences is a paramount stage for apprehending biological structures and functions. The known methods for investigating DNA sequence alignments usually fail to produce an exact solution. Motivated by the problem of finding similarities in DNA and amino sequences, we study certain classes of phylogenetic trees and present an exact solution for the minimum node cover which can be used for genetic sequence comparisons. The smallest number of nodes removed to disconnect a graph
\(G\)
is the smallest node cover. In this paper, we address the problem of finding a minimum node cover for certain tree-derived architectures, namely, Hyper trees, Slim trees,
\(X\)
trees,
\(l\)
-sibling trees, and
\(k\)
-rooted sibling trees. Trees are advantageous in biology especially for bioinformatics, systematics, and phylogenetics. The smallest node cover set is the minimum number of nodes in a graph which monitors all the edges in the graph. Therefore, these sets are much useful in bioinformatics workflow management system. Moreover, our results can also be applied to identify genetic variants and to characterize common DNA variants.