09-12-2019 | Methodologies and Application | Issue 15/2020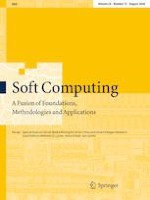 A hybrid technique for simultaneous network reconfiguration and optimal placement of distributed generation resources
Journal:
Authors:

Imran Ahmad Quadri, S. Bhowmick
Important notes
Publisher's Note
Springer Nature remains neutral with regard to jurisdictional claims in published maps and institutional affiliations.
Abstract
A new meta-heuristic method, comprehensive teaching learning harmony search optimization algorithm (CTLHSO), is developed in this paper for the simultaneous reconfiguration and optimal allocation of distributed generation resources in radial distribution systems. The proposed method is a hybridization of the teaching–learning-based optimization (TLBO) and the harmony search (HS) algorithms. Primarily, eleven mathematical benchmark functions are used to test the performance of the CTLHSO algorithm. The results are then compared with that of global best artificial bee colony (G-ABC), particle swarm artificial bee colony (PS-ABC), TLBO and improved TLBO (I-TLBO) with identical parameters and initial conditions. The results show that the CTLHSO performance is better than the G-ABC, PS-ABC, TLBO and I-TLBO. Subsequently, CTLHSO is implemented on the IEEE 33-bus and 69-bus radial distribution systems for network reconfiguration and optimal placement of distributed generation resources to minimize the power losses and improve the voltage profiles. Five case studies at three different load levels are carried out. The results obtained are found to be better than those obtained with HS algorithm, genetic algorithm, refined genetic algorithm and fireworks algorithm.