01-03-2015 | Issue 3/2015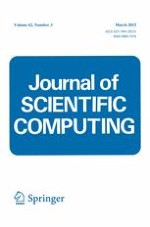 A Level Set Approach Reflecting Sheet Structure with Single Auxiliary Function for Evolving Spirals on Crystal Surfaces
Journal:
Authors:

T. Ohtsuka, Y.-H. R. Tsai, Y. Giga
Important notes
In memory of Professor Rentaro Agemi
The work of the first author is partly supported by the Japan Society for the Promotion of Science (JSPS) through Grant-in-Aid for Young Scientists (B)22740109 and for Scientific Research (C)26400158. The work of the second author is partly supported by NSF Grants DMS-1217203, DMS-0914465, DMS-0914840, and Simons Foundation. The work of the third author is partly supported by JSPS Grants Kiban(S)26220702, Kiban(A)23244015 and Houga 25610025.
Abstract
We introduce a new level set method to simulate motion of spirals in a crystal surface governed by an eikonal–curvature flow equation. Our formulation allows collision of several spirals and different strength (different modulus of Burgers vectors) of screw dislocation centers. We represent a set of spirals by a level set of a single auxiliary function
\(u\)
minus a pre-determined multi-valued sheet structure function
\(\theta \)
, which reflects the strength of spirals (screw dislocation centers). The level set equation used in our method for
\(u - \theta \)
is the same as that of the eikonal–curvature flow equation. The multi-valued nature of the sheet structure function is only invoked when preparing the initial auxiliary function, which is nontrivial, and in the final step when extracting information such as the height of the spiral steps. Our simulation enables us not only to reproduce all speculations on spirals in a classical paper by Burton et al. (Philos Trans R Soc Lond Ser A Math Phys Sci 243, 299–358,
1951
) but also to find several new phenomena.