14-09-2020 | Issue 4/2020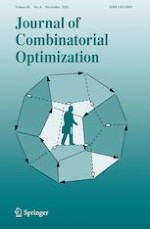 A linear time algorithm for the
p

-maxian problem on trees with distance constraint
Authors:

Trung Kien Nguyen, Nguyen Thanh Hung, Huong Nguyen-Thu
Important notes
This research is funded by Vietnam National Foundation for Science and Technology Development (NAFOSTED) under grant number 101.01-2019.325.
Publisher's Note
Springer Nature remains neutral with regard to jurisdictional claims in published maps and institutional affiliations.
Abstract
This paper concerns the
p
-maxian problem on trees with an upper bound on the distance of new facilities. We first consider the case
\(p = 2\)
and show that the optimal objective is obtained if the constraint holds with equality. By this result, we further explore the characteristic of the optimal solution, which helps to develop a linear time algorithm to solve the constrained 2-maxian problem. The result can be extended to the constrained
p
-maxian on trees based on the nestedness property. We also discuss the constrained
p
-maxian problem on trees in relation to the unconstrained
p
-maxian problem and the 1-maxian problem on the underlying tree.