01-06-2015 | Issue 4/2015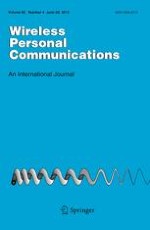 A Low Complexity Subband Adaptive Filter with Two-Stage Decomposition
Journal:
Authors:

Ning Xie, Junyue Ling, Hui Wang
Important notes
This work was partially supported by Natural Science Foundations of China (No. 61001182), Natural Science Foundation of Guangdong, China (Nos. S2013010012227, 10451806001004788), Science and Technology innovation Programs of Colleges and Universities in Guangdong (No. 2013KJCX0160) and Fundamental Research Programs of Shenzhen City (Nos. JCYJ20130329105415965, JC201005280556A).
Abstract
The conventional subband adaptive filter (SAF) based on poly-phase decomposition has fast convergence behavior compared by fullband adaptive filter. However, the complexity for one-stage signal decomposition increases significantly, as increasing the number of subband to improve the convergence further. To solve this problem, a new SAF is proposed in this letter, which is constructed with two-stage decomposition. Based on the proposed structure, an adaptive algorithm of updating coefficients is derived based on the principle of minimal disturbance. Compared to the conventional SAF with one-stage decomposition, the proposed one has similar convergence rate with a lower complexity. Theoretical analysis and simulation results validated the superiority of the proposed SAF.