Published in: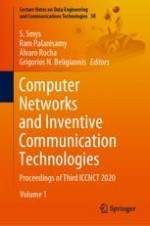 2021 | OriginalPaper | Chapter
A Multi-hop Energy-Efficient Cluster-Based Routing Using Multi-verse Optimizer in IoT
Abstract
Wireless sensor networks (WSNs) constitute an immense number of mobile or stationary sensor nodes that rely on multi-hop and self-organization. Internet of Things (IoT) is based on interconnected objects which are capable of communicating with each other and also collecting data related to their situation. Hence, for IoT networks, rather than energy-efficient communication, the most crucial challenge for conserving the cost of network management is the reduction of Internet connection numbers. To extend the network lifetime and to avoid interference, an extensively applied method is the efficient usage of energy. The objective of the low energy adaptive clustering hierarchy (LEACH) is the selection of sensor nodes as the cluster-heads (CHs) at several cycles such that there is the acquisition of the extreme power excess's outcome and, later, its dispersal in the whole WSN. Tabu search (TS) is a metaheuristic which controls the local heuristic search procedure such that there is the exploration of the solution space beyond its local optimality. Multi-verse optimizer (MVO) algorithm is influenced by astrophysics' multi-verse theory. This work has proposed a multi-hop energy-efficient cluster-based routing with multi-verse optimizer.