01-07-2020 | Original Article | Issue 14/2020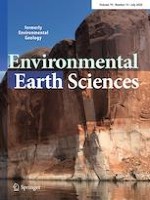 A new method for assessing slope unloading zones based on unloading strain
Journal:
Authors:

Han Bao, Faquan Wu, Pengcheng Xi, Jianmin Xu, Ning Liang, Changgen Yan, Wei Xu, Qun Qi
Important notes
Publisher's Note
Springer Nature remains neutral with regard to jurisdictional claims in published maps and institutional affiliations.
Abstract
Unloading zones are formed in shallow slopes after rock mass relaxation and crack extension. Generally, slope unloading assessment depends on the traditional methods mainly related to the phenomena. However, unloading is a process of energy release. Based on the fracture mechanics and the statistical theory of rock mass structure, a theoretical analysis was performed to establish the relationship between the accumulative opening displacement of unloading cracks and unloading strain, and a new method was proposed to quantify the extent and damage degree of unloading zones according to unloading strain. The new method was applied to assess the slope unloading zones at a hydropower station dam site in Northwest China. Results showed that the accumulative opening displacement curve of unloading cracks regularly varied, and could be easily divided into three parts. The strong and weak unloading zones could be recognized from the slope of the first two parts, while their extent was limited by the two inflexions on each curve. By comparison with the traditional method, the new method confirmed the reasonability in the slope unloading zone assessment. However, with an increase in the unloading degree, the difference in the zonation results obtained from the two methods may increase.