18-05-2021 | Issue 1/2021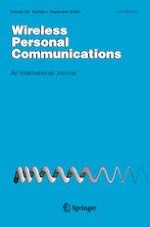 A Non-Time-Limited Channel Sounding Protocol for Key Generation
Journal:
Authors:

Liu Jingmei, Shen Zhiwei, Ren Zhuangzhuang, Liu Jingwei, Gong Fengkui
Important notes
Publisher's Note
Springer Nature remains neutral with regard to jurisdictional claims in published maps and institutional affiliations.
Abstract
The traditional channel sounding protocol requires that the whole sounding process must be completed within a coherent time. When the communication delay is close to or greater than the coherent time, the protocol will not work properly. In order to solve this problem, a novel Non-Time-Limited channel sounding protocol is proposed. The proposed channel sounding protocol does not need to guarantee the channel reciprocity, has no limit on the communication delay and has strong multi-relay scalability. At the same time, a relay-assisted security extension mechanism is proposed to prevent the collaborative eavesdropping of the neighboring attackers. Simulation experiments show that the Non-Time-Limited channel sounding protocol can get rid of the influence of channel change speed on key generation, effectively improve key consistency in high-speed mobile scenarios, and still maintain good key agreement rate performance in underwater acoustic communication.