17-12-2019 | Issue 6/2020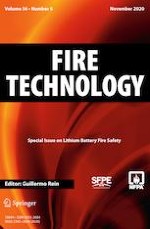 A Nonflammable Electrolyte Combining Phosphate and Fluorinated Ether for Li4Ti5O12/LiNi0.5Mn1.5O4 Cells
Journal:
Authors:

Hao Zheng, Wei Fang, Yi Sun, Xin Liang, Hongfa Xiang, Lihua Jiang, Qingsong Wang
Important notes
Publisher's Note
Springer Nature remains neutral with regard to jurisdictional claims in published maps and institutional affiliations.
Abstract
Nonflammable electrolytes are promising substitutes for the state-of-the-art carbonate-based electrolytes in order to directly enhance the safety characteristics of lithium ion batteries. Combination of trimethyl phosphate (TMP) and a fluorinated ether of 1,1,2,2-tetrafluoroethyl 2,2,3,3-tetrafluoropropyl ether (FEPE) is designed to formulate nonflammable electrolytes. The reformulated electrolytes of 1 mol/L LiPF6/TMP + FEPE (9:1, 8:2 and 7:3, w/w) are totally nonflammable. The FEPE solvent has higher oxidative stability and the FEPE-containing electrolytes have better separator wettability than the pure TMP electrolyte (1 mol/L LiPF6/TMP). The improved oxidative stability and separator wettability can enhance electrochemical stability of electrolyte on high-voltage cathode LiNi0.5Mn1.5O4. In Li4Ti5O12/LiNi0.5Mn1.5O4 cells, the FEPE-containing electrolyte exhibits the better cycling stability than the pure TMP electrolyte, and the solvent composed of TMP + FEPE (8:2) is the optimal ratio. The Li4Ti5O12/LiNi0.5Mn1.5O4 cell with the optimal electrolyte exhibits better rate capability because of the reduced polarization and improved oxidation stability. This work reveals the effect of fluorinated ethers on separator wettability of TMP-based nonflammable electrolytes and high-voltage applications.