01-06-2015 | ELECTROMAGNETIC MEASUREMENTS | Issue 3/2015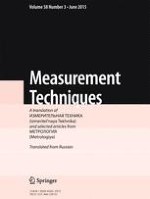 A Nonlinear Compensator of the Magnetic Interference of an Aviation Magnetometer System. Algorithm ANN-2
Journal:
Authors:

I. G. Antsev, V. V. Averkiev, Yu. M. Petukhov
Important notes
Translated from Izmeritel'naya Tekhnika, No. 3, pp. 55–57, March 2015.
A simplified algorithm for the nonlinear tuning of a compensator of the magnetic interference produced by the scalar magnetometer of an aircraft is investigated. It is shown that the nonlinear problem can be reduced to a linear problem by also considering the direct compensation of the nonlinear component.