01-07-2015 | Original Paper | Issue 4/2015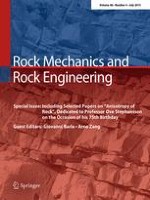 A nonlinear criterion for triaxial strength of inherently anisotropic rocks
Journal:
Authors:

Mahendra Singh, N. K. Samadhiya, Ajit Kumar, Vivek Kumar, Bhawani Singh
Important notes
Electronic supplementary material
The online version of this article (doi:
10.​1007/​s00603-015-0708-z
) contains supplementary material, which is available to authorized users.
Abstract
Rocks encountered at many underground construction sites are laminated and exhibit direction-dependent strength behavior. It is also a well-established fact that the strength varies in a nonlinear manner with confining pressure. There is a need of strength criterion which could capture the nonlinearity as well as the anisotropy in the triaxial strength behavior of the rocks. It is essential that the criterion should be simple and must involve minimum testing to the extent possible. Further, the parameters of the criterion should have wide acceptability among the geotechnical fraternity. In the present study, a nonlinear strength criterion for transversely isotropic rocks is presented. Critical state concept Barton (Int J Rock Mech Mining Sci Geomech Abstr 13(9):255–279,
1976
) has been used to define the curvature of the criterion. With a correctly defined curvature and starting from a reference point (UCS), it is possible to accurately assess the triaxial strength for given confining pressure. An experimental study conducted on triaxial strength behavior of three types of anisotropic rocks namely phyllite, slate and orthoquartzite has been discussed. A data base comprising more than 1140 triaxial tests conducted worldwide on anisotropic rocks has been compiled. Statistical evaluation of goodness of fit of the proposed criterion to the data base has been carried out. Further, the predictive capabilities of the proposed criterion have been evaluated by determining the error in estimation of triaxial strength if only few triaxial test data are available for determining the criterion parameters. The data base has also been back analyzed to assess the critical confining pressure for anisotropic rocks. Statistically, the critical confining pressure for anisotropic rocks can be taken nearly equal to 1.25 times the maximum UCS (obtained by applying load either parallel or perpendicular to planes of anisotropy). It is concluded that reasonable estimates of the triaxial strength of anisotropic rock can be made through the proposed criterion using minimum amount of triaxial test data available.