Published in: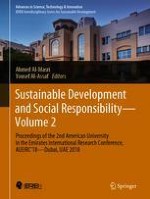 2020 | OriginalPaper | Chapter
A Novel Nondestructive Ultrasonic Velocity and Attenuation Approach for Sustainable Quality Prediction of Wheat-Based Products
Abstract
This paper presents a nondestructive novel approach for predicting the quality of wheat-based products using ultrasound longitudinal ultrasonic waves operated at 50 kHz, which are transmitted through various wheat samples. The velocity and attenuation coefficients were calculated using a signal processing technique based on measuring the transit time and amplitude changes of the signal. The acoustic parameters were then related to the mechanical properties of the wheat samples and correlated to the mechanical parameters determined from the mechanical testing micrograph, farinograph, and micro-extension tests. The results obtained in this study indicated that ultrasonic measurements at low frequencies allowed us to discriminate among wheat samples with a reasonable degree of confidence. Correlations between ultrasonic results and mechanical tests such as mixograph, farinograph, and micro-extension were found to be significant (
P
 ≤ 0.05) and in good agreement with the definitions of the parameters studied. To further explore the potential for ultrasound to be employed as a screening tool, the effect of the water content in different processes was investigated. Noticeable variations in both velocity and attenuation coefficient were observed. The results indicated that ultrasonic parameters (longitudinal phase velocity and attention coefficient) and the calculated longitudinal storage modulus were sensitive to differences in compositions of wheat samples, and hence, it can be used as a tool for sustainable quality prediction of wheat-based products.