23-12-2019 | Methodologies and Application | Issue 15/2020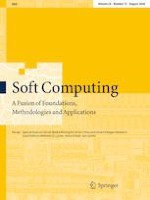 A novel systematic approach to diagnose brain tumor using integrated type-II fuzzy logic and ANFIS (adaptive neuro-fuzzy inference system) model
Journal:
Authors:

Subhashis Chatterjee, Ananya Das
Important notes
Publisher's Note
Springer Nature remains neutral with regard to jurisdictional claims in published maps and institutional affiliations.
Abstract
Brain tumor is an alarming threat among children and adults worldwide. Early detection and proper diagnosis of the tumor can enhance the chance of accurate survival among the individuals. Segmentation and classification of the detected tumor are based on its grade, i.e., criticality intensifies the survival rate and accurate treatment planning. However, manual segmentation of gliomas is time-consuming and results in an inaccurate diagnosis. Prompted by these facts, a multi-module automated framework has been developed to segment the brain multi-resonance images and classify it into two major classes, namely benign (low-grade) and malignant (high-grade). The present work is divided into four distinct modules: pre-processing, segmentation (clustering), feature extraction and classification. An efficient segmentation technique of the glioma images is proposed, which thereby provides a novel approach for the detection algorithm. Subsequently, prominent features characterizing mass effect, contrast, midline shift and irregularity of the edges of the tumor that are necessary for the physicians to detect tumor, are extracted. Using an ensemble of type-II fuzzy inference system and adaptive neuro-fuzzy inference system, a novel classifying technique has been developed to classify the detected tumor incorporating the extracted features. Finally, the research is tested and validated to show its consistency and accuracy using the images of patients of the BRATS dataset where the ground truth is made available. The detailed implementation of the proposed hybrid model is accomplished to establish its superiority in recognizing the grade of the tumor over other models mentioned in the literature survey.