06-10-2017 | Technical Contribution | Issue 1/2018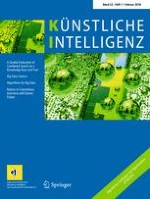 A Quality Evaluation of Combined Search on a Knowledge Base and Text
Journal:
Authors:

Hannah Bast, Björn Buchhold, Elmar Haussmann
Abstract
We provide a quality evaluation of KB+Text search, a deep integration of knowledge base search and standard full-text search. A knowledge base (KB) is a set of subject–predicate–object triples with a common naming scheme. The standard query language is SPARQL, where queries are essentially lists of triples with variables. KB+Text search extends this by a special
occurs-with
predicate, which can be used to express the co-occurrence of words in the text with mentions of entities from the knowledge base. Both pure KB search and standard full-text search are included as special cases. We evaluate the result quality of KB+Text search on three different query sets. The corpus is the full version of the English Wikipedia (2.4 billion word occurrences) combined with the YAGO knowledge base (26 million triples). We provide a web application to reproduce our evaluation, which is accessible via
http://​ad.​informatik.​uni-freiburg.​de/​publications
.