08-09-2016 | Issue 3/2017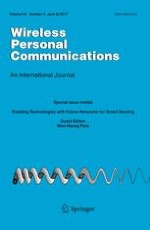 A Range Free Geometric Technique for Localization of Wireless Sensor Network (WSN) Based on Controlled Communication Range
Journal:
Authors:

Munesh Singh, Pabitra Mohan Khilar
Abstract
The current restricted area based range free localization schemes use various geometric shapes such as triangle, rectangle, and circle to determine the residence area of the sensor node. Then this residence area is used to localize the sensor node. However, the existing work requires higher density of anchor deployment to gain the acceptable accuracy of position estimation. In this paper, we overcome the density dependent accuracy of localization by proposing a new localization scheme called geometric anchor beacon (GAB). The proposed scheme is based on analytical geometry of an arc. In the proposed scheme, the
\(Cramers \ rule\)
is used, where the intersecting point of two perpendicular bisectors of the chords is taken as the estimated position of the sensor node. Simulation results show that, GAB shows less estimation error than any other range-free localization schemes such as CAB, Centroid, Convex, and APIT.