19-02-2019 | Issue 1/2020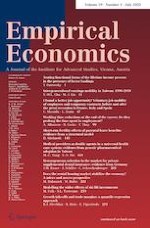 A rank approach for studying cross-currency bases and the covered interest rate parity
Journal:
Authors:

Jose E. Gomez-Gonzalez, Santiago Gomez-Malagon, Luis F. Melo-Velandia, Daniel Ordoñez-Callamand
Important notes
We thank Robert Kunst and two anonymous referees for their insightful comments that were very useful in improving our document. The opinions expressed here are those of the authors and do not represent those of the Banco de la República or its Board of Directors. The usual disclaimers apply.
Publisher's Note
Springer Nature remains neutral with regard to jurisdictional claims in published maps and institutional affiliations.
Abstract
We use a panel rank cointegration approach to check for the stability conditions of the cross-country money market interest rate basis. Using weekly information on short-term interest rates and spot and forward exchange rates for a set of 20 European economies between 2005 and 2017, we show that in most cases these bases are non-stationary, implying the failure of the covered interest rate parity condition. Concretely, a mean-reverting behavior is encountered in only two cases. The first includes Greece, Italy and Portugal, while the second Belgium, France and Germany.