25-02-2020 | Original Paper | Issue 1/2021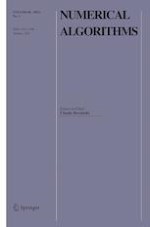 A Riemannian derivative-free Polak–Ribiére–Polyak method for tangent vector field
Journal:
Authors:

Teng-Teng Yao, Zhi Zhao, Zheng-Jian Bai, Xiao-Qing Jin
Important notes
Publisher's note
Springer Nature remains neutral with regard to jurisdictional claims in published maps and institutional affiliations.
Abstract
This paper is concerned with the problem of finding a zero of a tangent vector field on a Riemannian manifold. We first reformulate the problem as an equivalent Riemannian optimization problem. Then, we propose a Riemannian derivative-free Polak–Ribiére–Polyak method for solving the Riemannian optimization problem, where a non-monotone line search is employed. The global convergence of the proposed method is established under some mild assumptions. To further improve the efficiency, we also provide a hybrid method, which combines the proposed geometric method with the Riemannian Newton method. Finally, some numerical experiments are reported to illustrate the efficiency of the proposed method.