24-03-2018 | Foundations | Issue 5/2019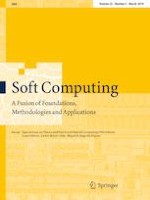 A semiring-like representation of lattice pseudoeffect algebras
Journal:
Authors:

Ivan Chajda, Davide Fazio, Antonio Ledda
Important notes
Communicated by A. Di Nola.
Abstract
In order to represent lattice pseudoeffect algebras, a non-commutative generalization of lattice effect algebras, in terms of a particular subclass of near semirings, we introduce in this article the notion of near pseudoeffect semiring. Taking advantage of this characterization, in the second part of the present work, we present, as an application, an alternative, rather straight as well as simple, explanation of the relationship between lattice pseudoeffect algebras and pseudo-MV algebras by means of a simplified axiomatization of generalized Łukasiewicz semirings, a variety of non-commutative semirings equipped with two antitone unary operations.