01-09-2013 | Original Paper | Issue 3/2013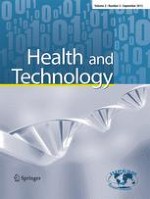 A smart citizen healthcare assistant framework
Journal:
Author:

Stella C. Christopoulou
Abstract
This paper focuses on the development of a citizen-oriented lifelong healthcare assistant system, which will support not only health Care Delivery Organizations (CDOs) but also health care providers. In other words this work proposes an u_Health system that will enhance not only the health care services but it will also provide individuals with the opportunity to manage their health needs via a "Five Cs" comprehensive and consistent scheme. Its goal is to take advantage of the ongoing emerging technologies by including them in the process of healthcare with the synergy among health experts' and the continuous interactive-exchange of knowledge and information in connection with the providers' and the users' experiences. Acting in this direction, the
smart citizen healthcare assistant
(
sCHcA
) framework proposes the infrastructure and the tools necessary in order to achieve the continuous monitoring and provision of care no matter where the individual may be. Specifically, this article presents a platform for a mobile mashup system that can be established on a CDO server and it will extend to a group of interrelated widgets that will work as a mobile service. The system will be able to create, install and operate as an integrated construction that will monitor and gather data from various health sensors and then send them to the CDO server and further may implement individuals' health matters. Healthcare professionals and organizations can further exploit this novel integrated tele-monitoring mechanism. Moreover, they may also utilize it as a ubiquitous individual home health care service and facilitate vulnerable groups, those living in remote areas, patients suffering from incurable diseases and long-term patients.