01-09-2020 | Original Article | Issue 18/2020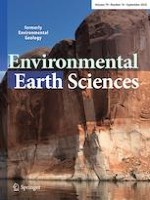 A study of natural analogues for predicting the performance of a CO2 geological storage: the experience from a natural CO2 reservoir (Gañuelas-Mazarrón Tertiary Basin, SE Spain)
Journal:
Authors:

Julio Rodrigo-Naharro, Luis Pérez del Villar
Important notes
Publisher's Note
Springer Nature remains neutral with regard to jurisdictional claims in published maps and institutional affiliations.
Abstract
In the framework of a Spanish project focused on carbon capture and storage technologies, the Gañuelas-Mazarrón Tertiary Basin (SE Spain) was studied as a natural analogue of a CO2 reservoir affected by anthropogenic leakages. It has been accepted that the main objective of natural analogue studies is to predict the long-term performance of a natural CO2 reservoir to be extrapolated to the operation of a CO2 deep geological storage, but these studies can also provide valuable information to select a site for CO2 storage. Thus, the comprehensive study performed in this Spanish basin has allowed the establishment of a guide to be applied to other similar natural systems with deep saline aquifers that are able to store CO2. This guide comprises 5 phases: (1) the compilation of existing information from the site; (2) the geological and structural study of the natural CO2 reservoir; (3) the characterisation of the main components (waters–rocks–gases) of the natural CO2 reservoir; (4) the identification of analogies between the natural CO2 reservoir and a potential site for CO2 geological storage; and (5) the implications for the long-term behaviour and safety of a CO2 storage system. Whilst the three first stages are well known since they are exclusively focused on the site characterisation, the latter two are poorly developed. For this reason, it has been considered convenient to go deeper into both the identification of analogies and the assessment of their performance in storing CO2. The main results of this study are aimed at elaborating a practical guide for regulatory agencies that are responsible for making decisions about sites that have been selected for anthropogenic CO2 geological storage.