29-11-2019 | Issue 3/2021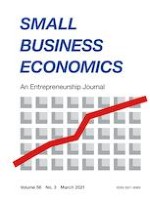 A study on the perceived strength of sustainable entrepreneurial ecosystems on the dimensions of stakeholder theory and culture
Journal:
Author:

Kathrin Bischoff
Important notes
Guest Editors:
Christine Volkmann, David B. Audretsch, Klaus Fichter, Markus Klofsten
Special Issue:
"Sustainable entrepreneurial ecosystems: How do contextual factors support and constrain sustainable entrepreneurial ecosystems in a regional ecosystem?"
Publisher's note
Springer Nature remains neutral with regard to jurisdictional claims in published maps and institutional affiliations.
Abstract
The notion of a sustainable entrepreneurial ecosystem is a novel concept related to entrepreneurial ecosystems that focus on fostering sustainable entrepreneurship. This paper advances our understanding of the topic by investigating the success factors for developing strong sustainable entrepreneurial ecosystems. Particularly important aspects in this context are the role of entrepreneurial stakeholders and regional culture for the perceptions of sustainable entrepreneurial ecosystems. Using sustainable entrepreneurial ecosystems in Graz, Austria, and Wuppertal, Germany, as an empirical base, a quantitative study is carried out. Based on a literature review, a set of hypotheses is developed and tested. The findings highlight the importance of regional entrepreneurial culture as well as tailored stakeholder support and collaboration in sustainable entrepreneurship for creating strong sustainable entrepreneurial ecosystems.