01-11-2013 | Issue 2-4/2013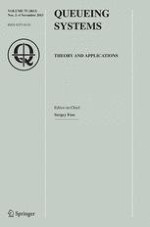 Abandonment versus blocking in many-server queues: asymptotic optimality in the QED regime
Journal:
Authors:

Ananda Weerasinghe, Avishai Mandelbaum
Abstract
We consider a controlled queueing system of the
\(G/M/n/B+GI\)
type, with many servers and impatient customers. The queue-capacity
\(B\)
is the control process. Customers who arrive at a full queue are blocked and customers who wait too long in the queue abandon. We study the tradeoff between blocking and abandonment, with cost accumulated over a random, finite time-horizon, which yields a queueing control problem (QCP). In the many-server quality and efficiency-driven (QED) regime, we formulate and solve a diffusion control problem (DCP) that is associated with our QCP. The DCP solution is then used to construct asymptotically optimal controls (of the threshold type) for QCP. A natural motivation for our QCP is telephone call centers, hence the QED regime is natural as well. QCP then captures the tradeoff between busy signals and customer abandonment, and our solution specifies an asymptotically optimal number of trunk-lines.