01-09-2015 | Issue 3/2015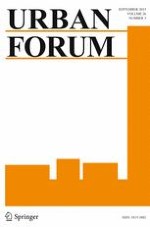 Accommodation and Tenuous Livelihoods in Johannesburg's Inner City: the 'Rooms' and 'Spaces' Typologies
Journal:
Authors:

Simon Sizwe Mayson, Sarah Charlton
Abstract
'Rooms' and 'spaces' are two closely linked forms of accommodation where the unit of occupation and exchange is a portion of a larger building or property, within which services and facilities are shared. Through participant observation and qualitative interviews, this study explores two buildings featuring informal rooms and spaces and one building featuring formal rooms and spaces in Johannesburg's inner city. The research demonstrated the incredible resilience of occupants in the face of an extreme shortage of affordable accommodation in Johannesburg's inner city (Tissington
2013
). Rooms and spaces in the inner city represented two of very few typologies research participants were aware of that allowed them access to the livelihood opportunities Johannesburg had to offer. The flexibility and diversity of rooms and spaces on the informal market enabled occupants to cope with insecure livelihood opportunities. While formal rooms represented the most stable support to those specific occupants, there were several 'barriers to entry' including the prerequisite of a stable income. However, the findings suggested an adverse relationship between accommodation and livelihoods demonstrated by the three 'forms' of rooms and spaces, where the only form available to people with the least secure livelihoods is that which, in turn, subjects them to the greatest insecurity. While one should 'do no harm' where aspects of accommodation are 'currently working' (Carey
2009
:2), there is scope for targeted and differentiated intervention in some forms of rooms and spaces, in support of livelihoods.