2020 | OriginalPaper | Chapter
Accountability Through Participatory Budgeting in India: Only in Kerala?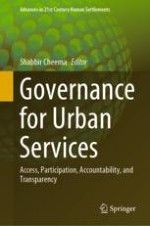 Read first chapter
Author: Harry Blair
Publisher: Springer Singapore
Abstract
Since its beginning in Brazil in 1989, participatory budgeting (PB) has spread worldwide to several thousand local governmental units (LGUs) in all continents, celebrated for its success in combining citizen involvement and state accountability in delivering public services. While PB has been adopted in most places by individual LGUs on their own initiative, in India the state of Kerala implemented PB throughout all its governmental units from rural villages and urban wards up through district in one "big bang" move in 1996. Over the succeeding two decades and more, PB has become securely institutionalized, surviving numerous changes of ruling party at state level. Outside of Kerala, however, few LGUs of any sort have implemented PB and it has not flourished in any of the adopters. Using the World Bank's principal-agent model of state accountability for public service delivery, this paper will explore Kerala's experience at PB and more briefly look at its lack of success elsewhere in India.