10-02-2016 | Issue 3/2018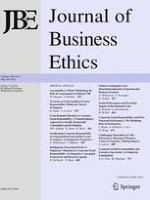 Accountable to Whom? Rethinking the Role of Corporations in Political CSR
Journal:
Authors:

Waheed Hussain, Jeffrey Moriarty
Important notes
State sovereignty is undermined to the extent that powerful corporations are involved in the exercise of political authority without being legitimated for this and without submitting to the usual responsibilities incumbent on government authorities.
—Jürgen Habermas,
Between Facts and Norms
, pp. 433–434.
Abstract
According to Palazzo and Scherer, the changing role of business corporations in society requires that we take new measures to integrate these organizations into society-wide processes of democratic governance. We argue that their model of integration has a fundamental problem. Instead of treating business corporations as agents that must be held accountable to the democratic reasoning of affected parties, it treats corporations as agents who can hold others accountable. In our terminology, it treats business corporations as "supervising authorities" rather than "functionaries." The result is that Palazzo and Scherer's model does not actually address the democratic deficit that it is meant to solve. In order to fix the problem, we advocate removing business corporations from any policymaking role in political CSR and limiting participation to political NGOs and other groups that meet the standards we set out for a politically representative organization (PRO).