01-11-2020 | Interview | Issue 6/2020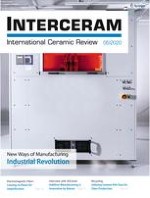 "Additive Manufacturing is Innovative by Nature"
3DCeram Sinto is a French-tech based in Limoges with 15 years of experience in 3D printing of complex ceramic parts with a broad spectrum of products and services and its own product line of 3D printers. Interceram spoke to Nicolas Rousselet, Aerospace Business Manager, and Kareen Malsallez, Marketing Manager, about a new service tailored to the needs of customers in the aerospace industry.
×
×
...