04-07-2020 | Original Research | Issue 13/2020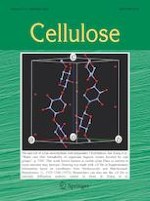 Ag@AgCl nanoparticles in-situ deposited cellulose acetate/silk fibroin composite film for photocatalytic and antibacterial applications
Journal:
Authors:

Xiaohong Wang, Yuguang Sui, Jian Jian, Zhengqiu Yuan, Jianxian Zeng, Lei Zhang, Taofen Wang, Hu Zhou
Important notes
Electronic supplementary material
Publisher's Note
Springer Nature remains neutral with regard to jurisdictional claims in published maps and institutional affiliations.
Abstract
In this paper, non-solvent-induced phase separation and in situ deposition are applied to prepare a multifunctional Ag@AgCl-cellulose acetate/silk fibroin (Ag@AgCl-CA/SF) composite film. The CA/SF film is employed as an eco-friendly substrate that provides sites for Ag@AgCl nanoparticle (NP) in situ deposition. The films are characterized using various analytical methods. The photocatalytic activity of the films is evaluated via the decomposition of methyl orange (MO) under visible light. The results indicate that the Ag@AgCl-CA/SF film exhibits higher photocatalytic activity than the Ag-CA/SF film and that the reaction rate constant of MO decomposition photocatalyzed by Ag@AgCl-CA/SF is approximately 10.3 times that of Ag-CA/SF. Meanwhile, a possible photocatalytic mechanism over the Ag@Ag-CA/SF film is presented based on theoretical analysis and active species trapping experiments. Furthermore, films with silver atom and silver ion deposition exhibit good antibacterial activity against
E. coli
and
S. aureus
. This research may provide new insight into the construction of a multifunctional film reactor for organic pollutant degradation and bacterial inactivation.
Graphic abstract
×