18-03-2019 | Issue 8/2019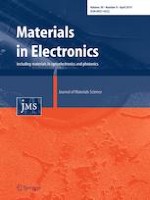 AgCrO2 formation mechanism during silver inner electrode and Fe–Si–Cr alloy powder co-firing in metal multilayer chip power inductors
Authors:

Yung-Ping Wu, Hsin-Yun Chiang, Hsing-I Hsiang
Important notes
Publisher's Note
Springer Nature remains neutral with regard to jurisdictional claims in published maps and institutional affiliations.
Abstract
Multilayer Fe
–
Si
–
Cr alloy chip power inductors have the benefits of a smaller, thinner profile, lower DC resistance and higher rated current. During metal multilayer power inductor co-firing, Fe
–
Si
–
Cr alloy powders react with the inner electrode, silver, to form a large amount of hexagonal flaky AgCrO
2
. The p-type semiconductor, AgCrO
2
, will cause co-fired Fe
–
Si
–
Cr alloy multilayer chip power inductor insulation degradation, hence reducing the power conversion efficiency due to the increase in eddy current loss. The AgCrO
2
forming mechanism is investigated in this study. It was observed that silver reacts with the Fe
–
Si
–
Cr thermal grown oxide layer, Cr
2
O
3
, and subsequently leads to the formation of Ag
2
CrO
4
when the temperature is lower than 650 °C. The formed Ag
2
CrO
4
with low melting temperature then volatilizes at higher temperatures through the pore channels to react with the volatilized Cr
2
O
3
to form the AgCrO
2
. AgCrO
2
will cause Fe
–
Si
–
Cr alloy multilayer chip inductor resistivity and breakdown voltage degradation.