01-09-2012 | Originals Originalarbeiten | Issue 5/2012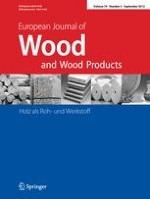 Albino strains of
Ophiostoma

spp. fungi effect on radiata pine permeability
Authors:

Vicente Hernandez, Stavros Avramidis, José Navarrete
Abstract
Albino strains of
Ophiostoma piliferum
,
Ophiostoma piceae
and
Ophiostoma floccosum
used as single strain and in mixtures are tested for their abilities to increase the permeability of radiata pine sapwood after 2 and 4 weeks of incubation. The bio-treatments yielded permeability increments up to 1.9 and 2.4 times controls after 2 and 4 weeks, respectively. The fungus type involved in the treatments as well as the incubation time appeared as significant factors. Results also suggest that combinations of albino
Ophiostoma
spp. fungi could increase permeability to higher levels than individual ones, hinting at a possible synergistic relationship among them. Furthermore, treatments with a high concentration of
O. floccosum
seem particularly successful. Simultaneously to the increment of permeability such bio-treatment might also offer protection against blue sap-stain. Further research is recommended to refine and find an optimum time of incubation, as well as the most effective combination and concentration of fungi.