01-10-2019 | Issue 6/2019 Open Access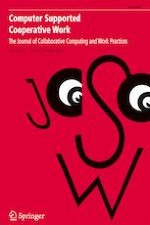 Aligning Concerns in Telecare: Three Concepts to Guide the Design of Patient-Centred E-Health
Authors:

Tariq Osman Andersen, Jørgen Peter Bansler, Finn Kensing, Jonas Moll, Troels Mønsted, Karen Dam Nielsen, Olav Wendelboe Nielsen, Helen Høgh Petersen, Jesper Hastrup Svendsen
1

Introduction

Our study offers three contributions to the literature on patient-centred e-health services. First, existing research rarely pays much attention to how patients' perspectives, concerns and needs differ from those of clinicians and other health professionals. In response, we examine the experience of illness as an embodied phenomenon and highlight how it differs from the biomedical perspective of the physician. Second, we provide a detailed analysis of the design of an e-health service to support the treatment of heart patients with an implantable cardioverter-defibrillator (ICD). In doing so, we show that patients and clinicians have divergent perspectives and concerns that may prove difficult to align. Third, we develop conceptual guidelines for understanding and designing patient-centred e-health services that explicate three dimensions of alignment between patients' and clinicians' concern.
2

Patient-centred e-health services
3

Medical phenomenology: Divergent meanings of illness and disease

We suggest that an understanding of the difference between the perspectives and goals of patients and clinicians, as well as the variation in needs and concerns within these two groups of actors, is key to successful design of e-health services. As S. Kay Toombs (

1992

) has pointed out in her seminal book on the meaning of illness, there is a 'decisive gap' between the way illness is experienced by the patient and the way in which physicians conceptualise disease in biomedical terms such as symptoms, diagnoses, pathology, treatment, and prognosis. 'Consequently, rather than representing a shared 'reality' between them, illness represents in effect two quite distinct 'realities" (ibid., p. 10). Generally speaking, patients may be said to experience illness as a unique, personal event that transforms their bodily awareness and disrupts their everyday lives, including their roles and relationships with others (Charon

1992

; Pickard and Rogers

2012

). In contrast, physicians may be said to understand disease as an entity in itself, a biological phenomenon that can be categorised and diagnosed as a known illness, for instance as a particular case of 'diabetes' or 'ischemic heart disease,' and treated according to scientifically tested procedures (Baron

1985

; Toombs

1992

; Mongtomery

2005

).
3.1

Different objects and projects

Consequently, physicians and patients focus on different aspects of illness. According to phenomenologists such as Toombs (

1992

) and others (Baron

1985

; Carel

2011

), patients encounter their illness as an immediate lived experience, which manifests itself as pain or other physical (or mental) problems that disrupt their normal functioning and demand their attention. The categories patients use to make sense of their illness are 'primarily concerned with everyday life and functioning' (Toombs

1992

). Serious illness, and in particular serious chronic illness, does not just affect the body. It can affect one's whole life, one's relationships with others, and how one sees oneself (Öhman et al.

2003

). Patients suffer because their illness constrains their agency and because it creates anxiety and fear, but they also suffer because 'they feel isolated from others, because they feel alone' (Biro

2012

). In contrast, physicians are trained to 'see' the patient's illness within a prescribed conceptual framework (the biomedical model of medicine), as a typical example of a disease. They conceptualise the illness in terms of abstract scientific constructs and in doing so primarily focus on 'objective facts' such as physical signs, clinical findings, and laboratory data (Toombs

1992

; Mongtomery

2005

).

Another aspect of the gap between physicians and patients is that they are engaged in different 'projects' and, as a consequence, have different criteria of relevance. The goal of physicians is to diagnose the patient's condition – to fit the particular case within disease taxonomies – and provide reliable and effective treatment in accordance with accepted practice standards, clinical guidelines, protocols, and so forth (Mongtomery

2005

). On the surface, this goal seems to match the patient's needs. However, as Toombs (

1992

) has stressed, 'the patient's goals relate to the qualitative immediacy of his or her illness. They represent an attempt to integrate the experience into daily life.' (p. 18). The overriding goal of patients is to come to terms with their changed situation and develop effective coping strategies that allow them to curb their anxiety and re-establish a meaningful life (Charon

1992

; Öhman et al.

2003

; Pickard and Rogers

2012

). One consequence of these differences in priorities is that patients and physicians often disagree on what is relevant and what is not: 'Since the 'problem at hand' is defined differently by patient and physician, according to goals that relate to their separate worlds, they do not share a system of relevance with respect to these goals.' (Toombs

1992

, p. 18).
3.2

Concerns change over time and vary between individuals

Although e-health design and research can surely benefit from paying attention to the 'decisive gap' between the lived experience of illness and the scientific, biomedical account of disease, this dichotomous portrait of patients' and physicians' perspectives nevertheless calls for nuances.

Firstly, we wish to underscore that neither patients' nor clinicians' concerns are static. An illness trajectory can, for the individual patient, involve great variation, e.g., in how the illness manifests itself, how one copes with it, reacts to treatment options, and life circumstances – all factors that may cause patient concerns to change over time. Similarly, clinicians' concerns may change according to the observed developments in the patients' disease, coping strategies and life circumstances, as well as in the light of new knowledge, guidelines and treatment options.
4

Research setting and method

The main findings presented in this paper derive from a large interdisciplinary research project, 'Co-Constructing IT and Healthcare' (2008–2012), carried out in a partnership between multiple hospitals and universities in the greater Copenhagen area in Denmark. The aim of the project was to understand the treatment and care for chronic heart patients with an implantable cardioverter defibrillator (ICD) and develop exploratory prototypes of a patient-centred e-health application to improve collaboration between patients and clinicians. An ICD is best understood as an advanced pacemaker, designed and configured individually to ensure a steady heart rhythm and, if needed, to deliver an electric shock to stop a fast and dangerous heart rythm.

In a follow-up project, the SCAUT project (2014–2018), we continued research and development under more commercial conditions (see Andersen et al.

2017

). Two additional industry partners joined the consortium; Medtronic, the world's largest medical device company, and Rehfeld Medical, a Danish healthcare IT start-up. This paper is mainly based on the CITH project, however, we use the empirical data from the follow-up project to illustrate how the conceptual guidelines that we propose, helped us increase alignment of concerns among patients and clinicians.

The care for ICD patients involves multiple actors. We investigated the two main settings where the care takes place: the hospital's heart centre and the patients' homes. Nearly all patients are monitored remotely. Data is sent from patients' home monitor to the heart centre for follow-up every three months or whenever an 'event' that clinicians need to address occurs. An event could be that the device registers atrial fibrillation [irregular heart beat] and notifies the heart centre. For each remote follow-up, a lab technician interprets the data and, if needed, the technician asks for a second opinion from a cardiologist or, in some cases, hands the case over to the cardiologist. Often they consult the patient's electronic medical record and a special device record. When needed, they make a phone call to the patient to get more specific information for evaluating the condition. If there are any problems, the patient is either referred to the local hospital for adjustment of his or her medication or the patient is called in to have the ICD adjusted at the heart centre. In most cases, however, no clinical action is needed.
4.1

Research methodology

Our overall research approach is based on Participatory Design (Simonsen and Robertson

2013

). Participatory Design seeks to engage users and designers in a mutual learning process to understand current challenges and design new forms of IT support and new ways of organising the work (Kensing and Greenbaum

2013

). Participatory Design has a strong methodological tradition for combining research and design inquiries in healthcare (Clemensen et al.

2007

; Kanstrup et al.

2017

) and there is a close connection between Participatory Design and CSCW studies (Kensing and Blomberg

1998

).

More specifically, Participatory Design entails that prospective users engage in close collaboration with designers to develop a thorough understanding of the current practices and in defining the aim and specific design of a new information system, in this case a patient-centred e-health service.
4.2

myRecord: The patient-centred e-health prototype

As part of the CITH project, we designed and developed an e-health service called myRecord. It is an add-on to the existing remote monitoring system (Andersen et al.

2011

), designed to empower patients who are capable and willing to engage with clinicians around the remote monitoring of their ICD (see Figure

1

).
×
myRecord offered several features, but the empirical material presented in this paper, centres on the features that support patients in preparing for each remote follow-up and in-clinic consultation. As part of the
preparation
, patients were prompted to complete a series of questions prior to the consultation. This meant updating and confirming their medication list and using their own vocabulary to raise questions about experienced problems or concerns. Further, patients were asked to report on their health status by ticking off symptom categories based on the New York Heart Association's classification scheme, e.g. shortness of breath or palpitation, and by specifying in which situations the symptoms occurred. Other features included a
logbook,
in which patients could keep a diary of symptoms and the development of their illness, and a
network
feature that allowed patients to share their information and get in touch with each other. For clinicians, myRecord offered a clinical summary, access to patients' preparations and logbook, and a feature for responding to patients, by either writing or dictating a message. A more extensive description of the different features and effects of myRecord have been published elsewhere (see e.g. Andersen et al.
2011
).
4.3

Data collection

In the early phases, we began by exploring existing practices in patients' homes and in the clinics. Then we launched the myRecord prototype to experiment with the IT support for the work of clinicians and patients. Based on these experiments, we adjusted the prototype, the tasks, and the roles, but we also learned about new issues, which then informed the next round of research and design activities. In this way, we deliberately iterated between analysis and design. Initially, the experiments were conducted in isolation from the daily practices of patients and clinicians, but later, when the prototype was more mature, we cautiously tried it out in the real life practices of patients and clinicians.

The overall project ran from 2008 to 2013 and we collected and produced empirical data throughout the period, using qualitative techniques such as interviews and observations, but also through collection of artefacts and documents used in patients' homes and in clinics. Interviews and observations took place in patients' homes as well as at the clinics. In the beginning, the purpose was to develop an overall understanding of who was involved in which types of activities and for which purposes. Later on, more detailed interviews and observations focused on specific treatment and care activities (including self-care) seen from the perspectives of the various actors. Interviews and observations were documented and selected parts were transcribed. This included noticing the ways in which patients and physicians organise and use documents and artefacts, allowing us to develop in-depth understandings of current practices. Data were also produced from workshops, prototyping activities and design interventions (See Bratteteig et al. and Brandt et al. in Simonsen and Robertson

2013

). The final use and system evaluation was conducted as a user test with patients and clinicians performing several pre-determined tasks, while being observed by a researcher who had not taken part in the design activities. Also, both patients and clinicians were interviewed about their use experiences (Nielsen

2015

).

We engaged in extended collaboration with 47 patients and 11 clinicians. To participate, patients needed to meet the following inclusion criteria; have an ICD implanted, be enrolled in remote follow-up, have a reasonable level of health literacy to articulate problems and challenges, have broadband internet access and a desktop computer, and finally live in the greater Copenhagen area. The clinicians represented 2 different hospitals in the capital region of Denmark, and were all engaged in ICD care on a daily basis.
4.4

Analysis

In our data analysis, we followed the interpretive approach (Walsham

1993

; Klein and Myers

1999

; Walsham

2006

), iterating between understanding the whole and its parts and going over the raw material many times until we were able to form a coherent and solid interpretation of the subject matter. Firstly, we coded our material by labelling emerging analytical themes and then grouped and consolidated these themes into more general concepts.

Secondly, based on these concepts, we then chose four cases that we believe illustrate the concepts and their implications, and which in sum show how the divergent meanings of illness and disease play out in situations of designing and evaluating IT support for active patient participation in e-health.
5

Findings

We present our findings by analysing four empirical vignettes from our research. The idea is to illustrate the different challenges involved in aligning the concerns of patients and clinicians. There is a progression in presentation of the four vignettes, starting with a relatively simple example of a negative patient-clinician collaboration and ending with a more complicated, but also more positive example. For each vignette, we discuss how it illustrates a key challenge in the process of aligning concerns.
6

Conceptual guidelines

Based on these findings, we present a set of conceptual guidelines for designing patient-centred e-health services. The concepts are grounded in insights from medical phenomenology (Baron

1985

; Toombs

1992

; Carel

2011

), in analytical reflections from the participatory design and in our empirical findings regarding the use of myRecord. These conceptual guidelines accentuate the importance of ensuring that e-health services align or reconcile the divergent needs and perspectives of patients and clinicians. Furthermore, they recognise the decisive gap in how patients experience illness and how clinicians conceptualise disease and suggest the importance of working towards designing e-health services that specifically seek to reconcile these, often divergent, concerns. Below, we present three properties that are essential for the identification and alignment of concerns in this context. The properties are meaningful, actionable, and feasible.
6.1

Meaningful

This initial property designates how a concern of one party (e.g. the patient) can only become a concern for the other (e.g. the clinician) if it is 'meaningful' to both, for instance by being acknowledged as clinically topical or relevant to the treatment and care process. Case 1 and 2 illustrate this by showing how concerns that are meaningful to Louis and Ben are not necessarily considered meaningful by the responding clinicians.

A meaningful concern is, however, not a static entity. It can evolve as patients, for instance, become more experienced in doing their clinical 'homework'. This may result in more informed and more detailed answers that can aid their own task of coping with the everyday challenges of their illness. As patients become more proficient in using myRecord, they might also become better at providing clinicians with the information they need to improve their treatments. Accordingly, clinicians may begin to consider the patients' concerns as relevant. This, in turn, can lead to an increased support of the patients' needs. Still, concerns only align if they are found to be meaningful by both the patient and the clinician.
6.2

Actionable

In all four cases, we pointed to a second required property – namely, that a concern has to be 'actionable.' Meaningful concerns arise as topical, clinically relevant and worth communicating about only when it is possible to take action on the concern. In other words, the concern needs to be actionable to be taken into consideration.

In the fourth case, myRecord facilitated the patient's articulation of a concern that proved relevant for both parties as it provided important information about symptoms not reflected in the ICD data. That is, the patient and the clinician succeeded, with support of myRecord, to make the concern actionable. By giving the lab technician the opportunity to quickly and easily respond verbally to the patient with a comforting message, a certain kind of action was made possible (an action of care, we might call it). In other words, the lab technician's (re)action made it meaningful for the patient to continue to raise her concerns, i.e. use the technology, whereas in the case of Ben and Louis this did not happen.
6.3

Feasible

A concern may be meaningful and actionable (in principle), but difficult or even impossible to handle by the clinician receiving it, e.g. due to the division of labour between medical specialties and/or professional and organisational boundaries. In the third vignette, we showed how a lack of knowledge about the 'infrastructure' and distribution of care let the patient to raise concerns that were simply beyond the scope of the clinician's responsibility. While myRecord succeeded in assisting the clinician in 'handling' this concern by allowing her to quickly disregard it, the patient was not assisted in directing the right concern to the right clinician. As a result, the patient found his efforts and the e-health service meaningless. Hence, concerns put forth by means of an e-health service need to be 'feasible.'

To be feasible, a concern must not only be actionable in principle, it must also be easy and convenient to take appropriate action within the organisational and social context. For example, to mitigate the above mentioned problem of 'misdirected' requests from patients, one could maybe design the service so that it supports clinicians in re-delegating action to the appropriate actor or so that it supports patients in addressing their questions to the right actor. In some cases, action may be delegated to patients themselves, for instance as a self-monitoring task or medication administration. In such cases, a concern may then be feasible if the patient is capable of and willing to act as recommended. Thus, feasibility should be understood as appropriate delegation of tasks between actors in both home and clinic. These findings are summarised in Table

1

.

Table 1

. Conceptual guidelines for aligning concerns in e-health
| | Definition | Example |
| --- | --- | --- |
| Meaningful | A concern is meaningful when it – at the same time – fits the biomedical model of medicine and the lived experience of patients | A patient approaches the cardiologist with a wide range of concerns that in number, character and style contrasts with what the cardiologist finds meaningful. The (lack of) response in turn makes the encounter meaningless to the patient. |
| Actionable | A concern is actionable when clinicians and/or patients – in principle – are able to take appropriate action | A patient is concerned that she has irregular heartbeat (arrhythmia). The lab technician at the heart centre takes appropriate action by making a short reply where she comforts the patient and assures her that she does not have arrhythmia. |
| Feasible | A concern is feasible when it is not only actionable in principle, but also in practice easy and convenient for clinicians or patients to take appropriate action. | A patient is concerned with his blood pressure and asks the clinicians at the heart centre to have it monitored. The request is, however, outside the scope of their responsibilities – and thus not feasible. |
7

Implications for designing patient-centred e-health

Using the three concepts – meaningful, actionable and feasible – we recommend that designers of e-health services consider a number of important questions at specific times in the process (see Figure

6

). The three-step e-health design process, described below, provides inspiration for how to proceed and which questions to ask at what time.
×
Designing for alignment of concerns is a challenging undertaking that ideally requires prolonged interaction with both patients and clinicians. It requires more than a traditional requirements specification process, because it calls for an extended commitment to understanding the different types of users' perspectives (Fitzpatrick and Ellingsen
2013
) through collaborative design activities. Working to align concerns is particularly demanding in terms of ensuring the articulation and negotiation of both patients' and clinicians' concerns. Seeking compromises and establishing a consensus can be highly contentious, and not something that is easily achieved in one go. As we have shown above, patients and clinicians have inherently divergent goals and focus on different aspects of illness and disease. Aligning concerns is an active, collaborative process that requires continuous translation and adjustment between what is regarded as meaningful and feasible by both patients and clinicians. We, therefore, recommend applying a participatory design approach where prospective patients, informal caregivers and clinicians are actively involved throughout the process.
Participatory design methods (Bødker et al.
2009
; Simonsen and Robertson
2013
) can be tailored to identify and reconcile divergent needs and concerns by co-designing. Within health informatics, co-design is increasingly suggested as a way forward (Clemensen et al.
2007
; Pilemalm and Timpka
2008
; Hardisty et al.
2011
). This involves research and design techniques such as ethnographic field studies, design workshops, scenarios, mock-ups and prototyping. We suggest organising the participatory design process in iterative cycles involving three different modes of inquiry to support alignment of patients' and clinicians' concerns. The three modes are exploration, experimentation, and evaluation. Figure
6
illustrates how designers can design patient-centred e-health that is meaningful, actionable, and feasible in a three step, iterative process.
7.1

Explore patients' and clinicians' concerns

It is worthwhile to begin by exploring questions such as: 'what are patients' and clinicians' main concerns?'; 'which actions are – or are not – taken to address these concerns?'; and 'what are the responsibilities of patients and the involved clinical actors?'. This provides the design team with an overview of the existing practices in the patients' homes and in the hospitals, and it allows the design team to develop an in-depth understanding of the degree to which current concerns are meaningful, actionable and feasible to the different actors. These exploratory studies should also involve prospective users in prioritising and negotiating concerns. In this first step, 'alignment of concerns' serves as an analytical lens for exploration.
7.2

Experiment with aligning concerns

As soon as the designers understand patients' and clinicians' concerns, they should start experimenting with new forms of IT support and new ways of organising treatment and care to better align these concerns. Here 'alignment of concerns' serves as a generative concept. The design team should involve both patients and clinicians in experimenting with how concerns may become at once meaningful, actionable, and feasible as well as identifying which concerns may never be aligned. Often, some form of negotiation is needed to ensure that one party understands that in order to get what they want, they have to do things that make the e-health service relevant for other parties. Sometimes, this may simply not be possible, meaning that there is a limit to what can be achieved by any given e-health service. For example, when designing myRecord, clinicians were interested in getting information from patients when data in a remote follow-up indicated a worsening condition. Here, the clinicians realised that in return they had to provide feedback to the patient to accommodate the patients' concerns. In any case, supporting alignment of concerns entails shaping not only to the e-health system, but also the organisational context and the work practices involved.
7.3

Evaluate the degree to which concerns are aligned

As the project evolves, new tasks, roles, and ways of collaboration are created. At first, we recommend that experiments be conducted in isolation from the daily practices of patients, relatives, and clinicians. The reason is to avoid doing harm or violating concerns that the design team has not yet understood properly. However, as prototypes become mature enough, we suggest cautiously evaluating these in settings as close to real life situations as possible 'to see the degree to which concerns are aligned'. Ultimately, this means trying out prototypes in patients' homes and in clinicians' work environments in order to evaluate the degree to which they are, in fact, meaningful, actionable, and feasible in practice.
7.4

An example of the application of the conceptual guidelines

To illustrate how the conceptual guidelines can be applied to the design of specific features that support alignment of concerns, we present an example from a follow-up project, the SCAUT project (see Andersen et al.

2017

). The example is a retrospective account of how we developed a new Symptom Tracking feature to replace the Logbook feature, which failed to 'bridge the gap' between patients and clinicians (see sections

5.1

and

5.3

). The original Logbook feature was essentially a free-text diary, which was shared with clinicians. The Symptom Tracking feature, in contrast, applies a more focused and structured approach. It allows patients to track their symptoms by selecting from predefined clinical categories (or by defining their own categories) and score the level of severity of each symptom on a scale from 0 to 10 by using a 'slider' (see Figure

7

). The Symptom Tracking feature helps clinicians get an overview of the patient's symptoms and their development over time. We support this by presenting a summary of the data as a bar chart next to the data transmitted from the patient's ICD over periods of one, three, and six months (see Figure

8

). In the following, we explain how we arrived at this solution through an iterative process of data collection, prototyping, testing and refining the feature.
×
×
Exploring patients' and clinicians' concerns
In the first phase, our aim was to uncover and explore the concerns of patients and clinicians in regards to tracking of symptoms (see Figure
6
; the first layer 'Explore'). Not surprisingly, we found that symptom experiences play a large role in many ICD patients' sense of health and well-being. ICD patients experience a variety of symptoms and they often worry about what they mean. In interviews, they described how they find it comforting and meaningful to share and discuss symptom experiences with clinicians, either by calling the clinic during 'telephone hours' or by asking lab technicians when they visit the clinic for follow-ups. We also discovered that some patients take notes of their symptoms on paper or in their smartphone calendar to aid their memory. For some patients, it is a learning process in which they gradually understand the reason for and the clinical relevance of their symptoms. For other patients, it is more about being comforted by the clinician and reassured that their symptoms and distress are taken seriously. Getting feedback on symptom experiences are therefore one of the main concerns of many ICD patients.
The clinicians' concerns are to some extent overlapping. When interpreting the data transmitted from a patient's ICD, either as part of a routine follow up or as a result of an 'event,' lab technicians and cardiologists need input from the patient about related symptom experiences. Clinicians are also aware of the importance of giving feedback and comforting patients when they are nervous or worried. In observations of phone calls with patients, we found that clinicians and lab technicians often focused on collaboratively making sense of symptoms in relation to the ICD data or on comforting the patient and ensuring him or her that 'everything looks fine.' In other words, learning about patients' symptom experiences when needed and being able to give relevant feedback are important concerns for the clinicians.
Experimenting with different possible solutions
In the second phase, we engaged in
experimenting
with different solutions together with patients and clinicians. The purpose was to come up with a design that could align their concerns and make them meaningful, actionable and feasible for both parties (see Figure
6
; the second layer 'Experiment'). We visited patients in their home and used paper sketches and mock-ups to discuss a proposal for a 'Symptom Diary' feature (a forerunner to the Symptom Tracking feature that we ended up with) and we held workshops with clinicians to discuss how to visualise the recorded symptoms in an appropriate way and how to provide feedback to patients in an efficient and effective way.
The conclusion was that both patients and clinicians could relate to the idea of a 'Symptom Diary' or 'Symptom Tracking.' However, it was still not clear how to design a solution that would satisfy both parties. We considered different solutions. For instance, using a 'rich' medium like audio recordings to capture and transmit symptom experiences or, instead, using predefined or user-defined symptom categories and rating scales to record symptoms in a more structured way.
After some deliberation, we decided to try out the use of audio recordings. So the first version of the Symptom Tracking feature enabled patients to do just one thing: Namely, record a 30 s audio clip about their symptom experiences. At that time, recording and sharing symptom experiences by using audio seemed to align patients' and clinicians' concerns in a good way: They both found symptom experiences meaningful; patients could easily capture symptom experiences and share them with clinicians, and clinicians could access the recordings whenever they wanted to know about a specific patient's symptoms.
So, we took the design sketches and 'user stories' to the software developers who in a couple of weeks developed a working prototype of the Symptom Tracking feature, ready to be tested by patients and clinicians.
Evaluating and redesigning the solution
In the third phase, we set out to
evaluate
the Symptom Tracking feature in real use and with real data (see Figure
6
; the center layer 'Evalutate'). We visited patients in their homes, observed clinicians at the Heart Centre, and learned about their opinion of the solution. It quickly turned out that many patients did not use it, because the purpose of tracking symptoms was unclear to them and because they found it too time consuming: "If I should note down and share symptoms every time I felt something, then I could do nothing but that... because is it a symptom or is it just my imagination? (design intervention in patient's home, May 2016) (ibid.). However, other patients used it extensively. For example, in one case, a patient recorded multiple audio clips about his experiences of severe chest pain – and this proved to be a challenge for the clinicians. Listening to a few recordings could be very useful but reviewing and responding to many recordings from the same patient was extremely time consuming. So we had to realise that the use of audio clips was not feasible. It was considered cumbersome and inconvenient by many patients and it did not scale well seen from the point of view of the clinicians.
Based on these learnings, we re-explored, re-experimented and re-evaluated several versions of the Symptom Tracking feature to see how we could make it more meaningful, actionable and feasible to record and share symptom experiences. For example, we dropped the audio recordings and instead asked patients to select a symptom category and rate the level of severity by simply using a 'slider' with a scale from 0 to 10. We also introduced the use of bar chart visualisations to help clinicians get an overview of the symptoms in an easy, fast and convenient way (see Figure
8
). Furthermore, to ensure that patients would understand the purpose of the feature, we included a guidance video in the mobile app where a patient and a lab technician explained why and how to use the Symptom Tracking feature.
However, despite these improvements, the clinicians still did not find the tracking and sharing of patients' symptom experiences feasible. They were afraid that the feature would lead (some) patients to expect that they would get feedback on all kinds of symptom experiences, and this would simply not be possible in a busy clinical setting.
To mitigate this challenge, and thus improve the alignment of patients' and clinicians' concerns, we have introduced a number of changes in the current version of the feature. Patients must now actively toggle Symptom Tracking 'ON' in the mobile app (see Figure
7
). When doing so, they are notified that clinicians will
only
review the symptoms if the ICD has reported an 'event' or if the patient explicitly has indicated a worsening of symptoms by clicking 'YES' to the question. In collaboration with the clinicians, we also developed a more efficient way to provide feedback to patients, namely a 'Standard Reply' feature, which allows clinicians to simply select from a list of standard replies.
The current version of the Symptom Tracking feature works much better than the free-text Logbook, but it is still not perfect and not as good as the other collaborative features we have developed in the project. However, it provides a good illustration of how we have applied the conceptual guidelines to design a solution that facilitates the alignment of concerns between patients and clinicians – even in a case where there is a 'minimum of overlap' between the two parties' concerns. During the whole process, we have been guided by the concept of 'alignment of concerns.' In the exploration and evaluation phases, 'meaningful,' 'actionable,' and 'feasible' have served as sensitising and analytical concepts, raising questions and opening up new lines of inquiry. In the experimentation phase, the concepts have played a more generative role, both by inviting further clarification and elaboration of the design problem and by stimulating creative thinking.
8

Implications for CSCW research

While the conceptual guidelines and methodical approach presented in this paper are aimed at designing patient-centric digital services to support treatment of patients with a specific chronic condition, there are strong indications that it will become increasingly important to focus on the alignment of concerns between patients and clinicians in a wider context of healthcare. In this section we therefore discuss the extended implications of our conceptual guidelines for research.
9

Conclusion

In this article, we have sought to provide reflexive analytical concepts for informing the design of patient-centred e-health services. We started out by recognising the shift from hospital information systems to e-health and the new challenges that arise when extending the healthcare network to include patients as active, participating users. We then presented important insights from medical phenomenology regarding the general differences between patients' and physicians' perspectives, while also recognising the variation of concerns within both groups, suggesting that it is crucial to take these insights into account when designing and evaluating e-health services. With this overall conceptualisation as our analytical point of departure, we unfolded four cases from the design and user tests of a working prototype, myRecord, demonstrating the implications of patients' and clinicians' different concerns in the specific contexts of ICD-care and the need for appropriate alignment of these. That is, when designing e-health services to support collaboration between patients and clinicians, it is important to identify the concerns that are

meaningful

to both patients and clinicians and, moreover, which concerns are or can be made

actionable

and

feasible

.

In our analysis, we identified the consequences of introducing e-health into existing care networks and how this complicates care. However, we have also demonstrated how e-health provides opportunities for new forms of care where active patient participation improves clinical decision-making and the quality of healthcare. Introducing a personal health record for ICD patients and the involved professionals turned out to reproduce, and even underpin, existing challenges of empowering patients to engage more actively in chronic care. The version of myRecord, featured in the first three cases, made the decisive gap between patients and clinicians more tension-filled and dissatisfactory for at least one party, often the patient. In these cases, the e-health service did not succeed in tapping into or supporting the alignment of concerns between patients and clinicians. More specifically, the prototypes of myRecord failed due to a persistent mismatch between the patients' and clinicians' respective perceptions of what constitutes a meaningful concern, and subsequently an appropriate action. In the final case, however, we showed how the service succeeded in aligning concerns by facilitating a translation of the patients' concerns into clinically meaningful issues and making them clinically actionable and organisationally feasible.

The somewhat contradictory outcomes of the design and use of myRecord illustrated by the different cases only underpin the necessity of developing theoretically grounded and empirically informed concepts for e-health, as we believe the concepts put forth in this article – alignment of concerns – to be. Echoing research that suggests participatory design and co-design as a way ahead (Clemensen et al.

2007

; Pilemalm and Timpka

2008

; Hardisty et al.

2011

), we recommend operationalising the concepts by engaging in participatory design activities that employ a strategy of iterating between exploring, experimenting, and evaluating to enable the necessary collaborative process of identifying and negotiating concerns. The fact that the heterogeneity of patients' and clinicians' perspectives in practice may be even more complex than indicated by classic medical phenomenology only underlines the importance of approaching the alignment of concerns as a participatory and iterative process. This is also an encouragement for CSCW researchers to

experiment

with collaboration, guided by well-founded analytical resources and an awareness of the intricate dynamics between such different actors as patients and clinicians, yet without losing sight of the ambition to

design

.
Acknowledgements
We are grateful for the valuable collaboration with patients and their relatives as well as the clinicians at the Heart Centre at Copenhagen University Hospital and Bispebjerg Hosptital. We would like to also acknowledge students doing their bachelor or master thesis project at the University of Copenhagen. The CITH-project (Co-constructing IT and Healthcare) was a 4-year project funded by the Danish Council for Strategic Research #2106-07-0017 and involved partners from the University of Copenhagen, the IT University of Copenhagen, Copenhagen Business School, the Danish Technical University, and Copenhagen University Hospital. The SCAUT (Automated Detection and Prediction in Chronic Care) project is co-funded by the Innovation Fund Denmark #72-2014-1 and the University of Copenhagen, Rehfeld Medical and Medtronic. This study was also, in part, supported by a grant from the Danish Velux Foundations (The Computational Artifacts Project, grant #33295).
Open Access
This article is distributed under the terms of the Creative Commons Attribution 4.0 International License (http://creativecommons.org/licenses/by/4.0/), which permits unrestricted use, distribution, and reproduction in any medium, provided you give appropriate credit to the original author(s) and the source, provide a link to the Creative Commons license, and indicate if changes were made.
Open Access
This article is distributed under the terms of the Creative Commons Attribution 4.0 International License (http://creativecommons.org/licenses/by/4.0/), which permits unrestricted use, distribution, and reproduction in any medium, provided you give appropriate credit to the original author(s) and the source, provide a link to the Creative Commons license, and indicate if changes were made.
Open Access
This article is distributed under the terms of the Creative Commons Attribution 4.0 International License (http://creativecommons.org/licenses/by/4.0/), which permits unrestricted use, distribution, and reproduction in any medium, provided you give appropriate credit to the original author(s) and the source, provide a link to the Creative Commons license, and indicate if changes were made.
Footnotes
1
This article extends the empirical material and offers an extensive discussion of the theoretical argument originally developed in our conference paper 'Alignment of Concerns: A Design Rationale for Patient Participation in eHealth' (Andersen et al.
2014
). The paper also extends the methodological argument presented in a book chapter 'From Prototype to Product: Making Participatory Design of mHealth Commercially Viable', which is part of the edited book 'Participatory Design & Health Information Technology' (Andersen et al.
2017
)