2013 | OriginalPaper | Chapter
Alternative Authentication – What does it really Provide?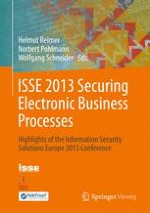 Read first chapter
Author: Steve Pannifer
Publisher: Springer Fachmedien Wiesbaden
Abstract
In recent years many new technologies and techniques have been developed for authenticating individuals attempting to access digital services. Some of these appear to offer new, innovative and flexible ways to improve security, potentially removing the need for relatively expensive hardware devices. We explore some the characteristics of these new methods in relation to the requirements of some example business services. Our intention is not to provide a full or detailed assessment of the methods but rather to provide an initial view which we hope will stimulate further debate.