Published in: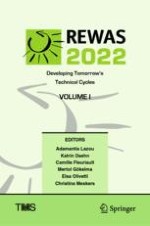 2022 | OriginalPaper | Chapter
Aluminum Roadmap to a Sustainable Future
Abstract
For more than a century, aluminum has played a major role in providing high-strength, low-weight mass reduction solutions to all forms of efficient transportation. As companies, governments, and consumers increasingly prioritize responsible environmental stewardship, the aluminum industry is collaborating to define the research and development goals necessary to ensure a sustainable future. At the helm of that collaboration is The Aluminum Association, its member companies, industry colleagues, and automotive customer base. Achieving measurable and impactful goals over the next decade will enable manufacturers to not only optimize aluminum applications in future passenger vehicles, but also maximize the value of the aluminum content in those vehicles as they are removed from service. The Aluminum Association's new
Automotive
Aluminum Roadmap
outlines strategic priorities while recognizing how the changing landscape of mobility is increasingly connected and electric. Within that landscape, this manuscript and related presentation detail the reasons why aluminum is the fastest growing automotive material, in what applications aluminum content continues increasing its share, and the impact consumer demand and government regulations have in directing automobile producers away from conventional internal combustion engines to increasingly electrified fleets.