2021 | OriginalPaper | Chapter
1. Amino Acids Functionalized Inorganic Metal Nanoparticles: Synthetic Nanozymes for Target Specific Binding, Sensing and Catalytic Applications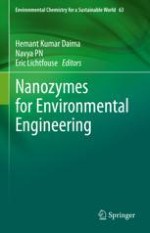 Authors: Selvakannan Periasamy, Deepa Dumbre, Libitha Babu, Srinivasan Madapusi, Sarvesh Kumar Soni, Hemant Kumar Daima, Suresh Kumar Bhargava
Publisher: Springer International Publishing
Abstract
The design and synthesis of surface engineered functional inorganic nanomaterials for environmental applications is a long-standing goal of biomimetic research. Further developments in using nanomaterials for environmental engineering applications rely upon their surface modification, efficient sensing, stability under harsh conditions, biocompatibility, and less adverse environmental impact. Therefore, in this chapter, we review the amino acid functionalized inorganic nanomaterials, class of emerging materials that can address the afore-mentioned challenges to realize their environmental applications. These nanomaterials structurally mimic the characteristics of natural enzymes chirality, molecular recognition catalytic properties as well as possess the inherent electronic, optical, and catalytic properties of nanoparticles.
First, we discuss about various synthetic aspects currently practiced for the synthesis of amino acids functionalized inorganic nanomaterials including metals, metal oxides, semiconductors, and clays. Rationale behind in synthesizing these class of materials is elucidated based on their characteristic chiro-optical properties that present a unique combination of chirality driven optical properties of amino acids with the surface plasmon resonant absorption and photoluminescent properties of metal and semiconductor nanoparticles. The chapter also highlights the nature of interaction and thermodynamic aspects of bonding between amino acid and nanoparticles, studied using isothermal titration calorimetric and spectroscopic techniques. Subsequently, detailed description of the molecular and ion recognition properties of these materials originate from the amino acid shell that can selectively bind the specific molecular or ion targets and biomolecules are provided. Focusing on the recognition and optical properties of these materials, this chapter summarizes the recent progress in using these materials as chiral separation, molecular and ion sensing. Finally, presence of amino acid shell on the surface of nanoparticles are demonstrated to provide enzyme like catalytic activities such as nanozymes and various kinds of nanozyme applications of these materials have been compiled and discussed their potential as suitable substitutes to the natural enzymes.
This chapter compiles the applications of amino acid functionalized nanomaterials ranging from nanozyme, sensing, substrate specific binding to chiral separation and discussed in detail. To prove the fact that the inherent physicochemical properties of these nanomaterials make them as analogues of natural enzymes, also endow them with unparalleled advantages and extensive prospects in environmental science and engineering.