08-11-2019 | MEASUREMENTS IN INFORMATION TECHNOLOGIES | Issue 5/2019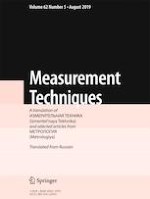 An Algorithm for Cycle-Slip Detection in a Melbourne–Wübbena Combination Formed of Code and Carrier Phase GNSS Measurements
Journal:
Authors:

I. V. Bezmenov, I. Yu. Blinov, A. V. Naumov, S. L. Pasynok
Important notes
Translated from Izmeritel'naya Tekhnika, No. 5, pp. 25–30, May, 2019.
A new algorithm has been developed for the determination and elimination of jumps in the Melbourne–Wübbena combination, formed from the code and phase measurements in global navigational satellite systems. The algorithm more reliably, in comparison with analogous known algorithms, detects jumps in the data that are associated with time losses in the radio-receiving devices for phase capture of RF signals transmitted from satellites. Determination of the positions and values of jumps in a Melbourne–Wübbena combination is performed against the noise component and outliers. The algorithm was tested for actual measurements in global navigational satellite systems at two carrier frequencies.