10-04-2021 | Production Management | Issue 5/2021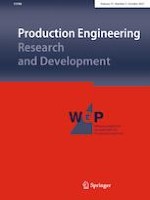 An alternative for improving setup times and time between failures aiming at manufacturing lead time reduction
Journal:
Authors:

Marcel Heimar Ribeiro Utiyama, Moacir Godinho Filho, Pedro Carlos Oprime
Important notes
Publisher's Note
Springer Nature remains neutral with regard to jurisdictional claims in published maps and institutional affiliations.
Abstract
The main goal of this study is to propose an alternative approach to improve manufacturing setup time and the time between failures. This approach focuses on eliminating the outliers concerning manufacturing setup times and time between failures. With this aim, we performed simulations to compare the effect on the lead time of both improvement strategies with the traditional strategies of reducing the mean or variability. The simulation results indicate that for low variability, the best strategy is to focus on the mean setup time and time between failures and the worst-case strategy emerges as an excellent practical alternative. For environments with moderate variability, investing in eliminating the worst-case setup time and time between failures is suggested as the best option. Both options presented results like the strategies of improving the mean and variability and it is generally achieved with a lower cost and easier implementation. Therefore, the results of the present study indicate that the worst-case strategy is an important improvement option and can be adopted by companies in practice, deserving further investigation in manufacturing and operations-management studies.