25-09-2020 | Issue 4/2020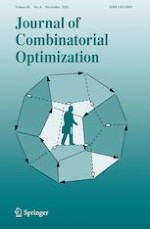 An approximation algorithm for submodular hitting set problem with linear penalties
Authors:

Shaojing Du, Suogang Gao, Bo Hou, Wen Liu
Important notes
Publisher's Note
Springer Nature remains neutral with regard to jurisdictional claims in published maps and institutional affiliations.
Abstract
The hitting set problem is a generalization of the vertex cover problem to hypergraphs. Xu et al. (Theor Comput Sci 630:117–125, 2016) presented a primal-dual algorithm for the submodular vertex cover problem with linear/submodular penalties. Motivated by their work, we study the submodular hitting set problem with linear penalties (SHSLP). The goal of the SHSLP is to select a vertex subset in the hypergraph to cover some hyperedges and penalize the uncovered ones such that the total cost of covering and penalty is minimized. Based on the primal-dual scheme, we obtain a
k
-approximation algorithm for the SHSLP, where
k
is the maximum number of vertices in all hyperedges.