01-09-2020 | Original Article | Issue 18/2020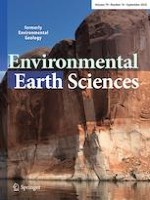 An assessment of heavy metal contamination in the surface sediments of Ha Long Bay, Vietnam
Journal:
Authors:

Nhon Dang Hoai, Ha Nguyen Manh, Thanh Tran Duc, Thung Do Cong, Lan Tran Dinh, Ron Johnstone, Dung Nguyen Thi Kim
Important notes
Publisher's Note
Springer Nature remains neutral with regard to jurisdictional claims in published maps and institutional affiliations.
Abstract
Ha Long Bay is an attractive landscape and a center of dynamic economic activity; however, it is subject to negative impacts from tourism, activity in its harbor, mining, industry, and urbanization, which is evidenced by the presence of pollutants, including heavy metals, in surface sediment at the bay. To ascertain the extent of the anthropogenic impact, 48 surface sediment samples were collected and analyzed for grain size and the presence of heavy metals (Cu, Pb, Zn, As, Cd). Thirteen sediment types were identified in Ha Long Bay: sand, muddy sand, silty sand, sandy mud, mud, silt, sandy gravel, muddy sandy gravel, gravelly mud, gravelly muddy sand, slightly gravelly sandy mud, slightly gravelly sand, and sandy silt; of these, sandy silt and silty sand are the most common, while the others are less so. Regarding the concentration of heavy metals in the sediment, Cu concentration ranges from 3.80 to 41.72 mg/kg, with an average of 14.53 mg/kg; Pb ranges from 10.17 to 69.90 mg/kg, with an average of 30.39 mg/kg; Zn ranges from 6.34 to 119.21 mg/kg, with an average of 50.87 mg/kg; Cd ranges from 0.03 to 0.20 mg/kg, with an average of 0.08 mg/kg; As ranges from 1.78 to 13.71 mg/kg, with an average of 6.06 mg/kg. The concentrations of Cu, Pb, and As are higher than the Interim Sediment Quality Guideline (ISQG) levels at stations near the shoreline, and lower than the ISQG levels distributed throughout offshore stations.